Bathroom Multi Corner Shelf
Rs.3,500.00 (-29%)
MATERIAL: 4 Trays tidy of our shower caddy are made of high quality 304 stainless steel, rust resistant and durability; ABS plastic self draining shelves, loading capacity is increased can hold most 5kg/11lbs.
ADJUSTABLE HEIGHT: It is highly flexible and can be adjusted by the height, adjustable from 105 to 310cm. Fits floor, bath tub or bathroom sink to ceiling.
LARGE STORAGE SPACE: 4 Tier design provide sufficient room for storing shampoo, body wash, loofah, and other shower necessities, comes with hooks maximize the storage capacity.
EASY TO ASSEMBLE: With no drilling or screwing required, it is easy to assemble with detailed instructions
Description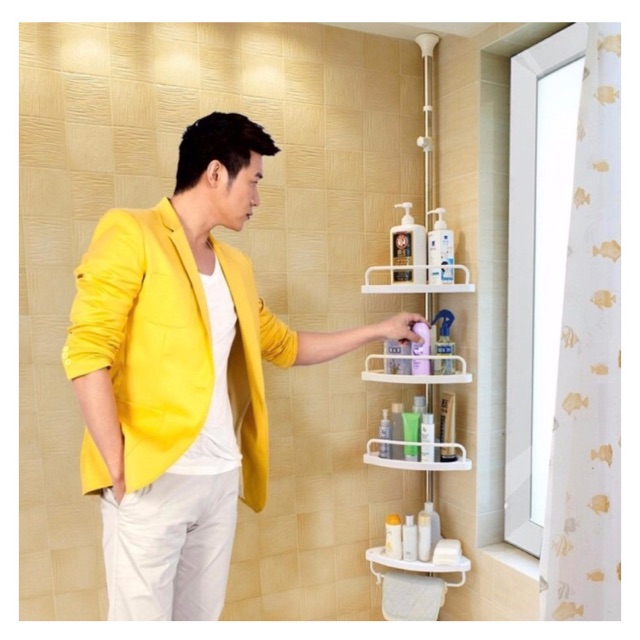 MATERIAL: 4 Trays tidy of our shower caddy are made of high quality 304 stainless steel, rust resistant and durability; ABS plastic self draining shelves, loading capacity is increased can hold most 5kg/11lbs.
ADJUSTABLE HEIGHT: It is highly flexible and can be adjusted by the height, adjustable from 105 to 310cm. Fits floor, bath tub or bathroom sink to ceiling.
LARGE STORAGE SPACE: 4 Tier design provide sufficient room for storing shampoo, body wash, loofah, and other shower necessities, comes with hooks maximize the storage capacity.
EASY TO ASSEMBLE: With no drilling or screwing required, it is easy to assemble with detailed instructions
Bathroom Multi Corner Shelf Bathroom Corner Shelf, 4 Tier Telescopic Stainless Steel Corner Shower Rack Caddy Bathroom Shelf Organiser Unit Tidy Basket with Hooks, Adjustable Height 105-310cmBathroom Multi Corner Shelf Bathroom Corner Shelf, 4 Tier Telescopic Stainless Steel Corner Shower Rack Caddy Bathroom Shelf Organiser Unit Tidy Basket with Hooks, Adjustable Height 105-310cmBathroom Multi Corner Shelf Bathroom Corner Shelf, 4 Tier Telescopic Stainless Steel Corner Shower Rack Caddy Bathroom Shelf Organiser Unit Tidy Basket with Hooks, Adjustable Height 105-310cm
Specifications of JEEMSON MULTI CORNER SHELF Bathroom Multi Corner Shelf Bathroom Corner Shelf, 4 Tier Telescopic Stainless Steel Corner Shower Rack Caddy Bathroom Shelf Organiser Unit Tidy Basket with Hooks, Adjustable Height Up To 12ft.
Brand

No brands

SKU

609104845_PH-1677350650

Material

Plastic

Shelf Design

Corner

Model

NA

Warranty Type

Local Supplier Warranty

Warranty Period

7 Days
What's in the box
4 layer corner shelf
Delivery Information
EXPRESS Delivery! for Colombo 1 – 15 (Within 24 Hours) – Rs 150
We charge an amount of LKR 250 – LKR 350 for deliveries out of Colombo (Outstations)
Delivery Time
Deliveries within Colombo will be delivered within 2 working days.
Deliveries outside Colombo may take 3 – 5 days depending on the distance.
Customers will be notified at the earliest possible time if there any unavoidable delays with their order.
To Redeem:
Visit Orders.lk Showroom at;
No : 260,Ground Floor, Kotte Road, Rajagiriya (Next to Cashew Corporation)